Coastal Adaptation & Resilience Master Plan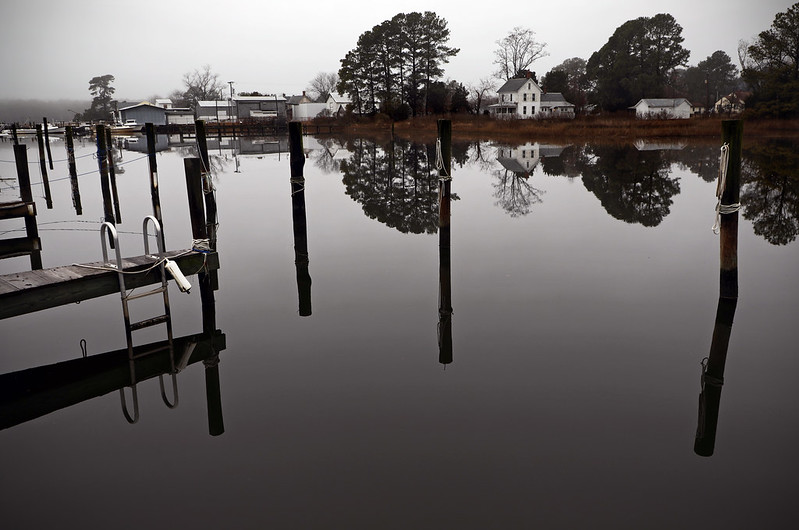 Photo Credit: Aileen Devlin, Virginia Sea Grant
The Need for Coastal Resilience
Coastal Virginia faces an existential threat from rising waters caused by unabated human-produced carbon emissions and the climate changes they inflict. High rates of land subsidence, combined with sea level rise, means Virginia is experiencing one of the highest rates of relative sea level rise in the United States. More intense hurricanes and nor'easters, more frequent heavy rainfall events and increased frequency of tidal flooding from sea level rise will combine to threaten the millions of Virginian's who call the coastal region home. These hazards to our unique coast present an opportunity for Virginia to lead in coastal resilience, leveraging economic development opportunities associated with adaptation and mitigation, using natural and nature based solutions for additional natural resource benefits whenever feasible, and advancing expertise at the Commonwealth Center for Recurrent Flooding Resiliency (CCRFR). The Secretary defines resilience as "the ability of natural and built coastal environments to WITHSTAND AND recover from hazardous events such as extreme weather, storm surge, and recurrent flooding."
Virginia's Coastal Resilience Master Plan
Governor Ralph S. Northam recognized that Virginia must increase resilience to sea level rise and natural hazards when he issued Executive Order Number 24 on November 2, 2018. This executive order provides a pathway to increase resilience to these hazards in the Commonwealth and includes a provision for the Commonwealth's first Coastal Resilience Master Plan, with the goal of aligning state efforts and assisting local governments in reducing flood risk through planning and implementing large-scale flood protection and adaptation initiatives.
The development of the Virginia Coastal Resilience Master Plan is the responsibility of the Commonwealth's Chief Resilience Officer (The Secretary of Natural Resources), with the Assistance of the Special Assistant to the Governor for Coastal Adaptation and Protection (established by 2.2-435.11 of the Code of Virginia), in consultation with stakeholders at all levels - including but not limited to: local governments, state agencies, Regional Planning District Commissions, the Secure and Resilient Commonwealth Panel, federal partners, the Virginia Institute of Marine Science, partner universities in the Virginia Sea Grant Program and the Commonwealth Center for Recurrent Flooding.
This Virginia Coastal Resilience Master Plan is the beginning - a framework for action. Quoting Governor Northam, it is "Virginia's Roadmap to make our built environment more resilient to floods, hurricanes, fires, and other extreme weather events," Further, it seeks to justify and explain the costs and necessary funding to move Virginia to the forefront of innovative and essential adaptive capacity – and to make Virginia a leader in Coastal Adaptation and living with water in our climate-changed future. The Master Plan will be updated every 5 years and reflect the best available science, as required by Executive Order 24.
The Virginia Coastal Resilience Master Plan focuses on the following 8 regions of the Commonwealth, organized by their Planning District/Regional Commissions:
Eastern Shore - Accomack and Northampton Counties
Hampton Roads - Isle of Wight, James City, Southampton, and York Counties and the Independent Cities of Chesapeake, Franklin, Hampton, Newport News, Norfolk, Poquoson, Portsmouth, Suffolk, Virginia Beach and Williamsburg
Middle Peninsula - Essex, Gloucester, King and Queen, King William, Matthews and Middlesex Counties
Northern Neck - Lancaster, Northumberland, Richmond and Westmoreland Counties
Northern Virginia - Arlington, Fairfax, Loudoun, and Prince William Counties and the Independent Cities of Alexandria, Fairfax, Falls Church, Manassas, and Manassas Park
George Washington (Greater Fredrickburg) - Caroline, King George, Spotsylvania and Stafford Counties and the Independent City of Fredericksburg
Richmond - Charles City, Chesterfield, Goochland, Hanover, Henrico, New Kent and Powhatan Counties, and the Independent City of Richmond.
Crater (Greater Petersburg) - Dinwiddie, Prince George, Surry, Sussex, and Greensville Counties and the Independent Cities of Colonial Heights, Hopewell, Emporia, and Petersburg
Additional Resources
Commonwealth Center for Recurrent Flooding Resiliency
ADAPTVA portal, local inundation scenarios, current water levels, tidal flooding forecasts, sea level rise forecasts, economic impacts and other educational content.
https://www.floodingresiliency.org/



NOAA Climate Toolkit
This resource is ideal for planners, local gov'ts etc. less so for general public)
Partners in this work, in addition to the numerous local governments and planning district commissions:
Army Corp of Engineers

Commonwealth Center for Recurrent Flooding Resiliency

Department of Conservation and Recreation

Department of Emergency Management

Department of Housing and Community Development

National Oceanic and Atmospheric Administration (NOAA)

National Aeronautics and Space Administration (NASA)

The Nature Conservancy

U.S. Environmental Protection Agency

Virginia Coastal Policy Center (College of William and Mary)

Virginia Institute of Marine Science (VIMS) Center for Coastal Resource Management

Virginia Marine Resources Commission

Virginia Sea Grant

Wetlands Watch