Virginia and the Chesapeake Bay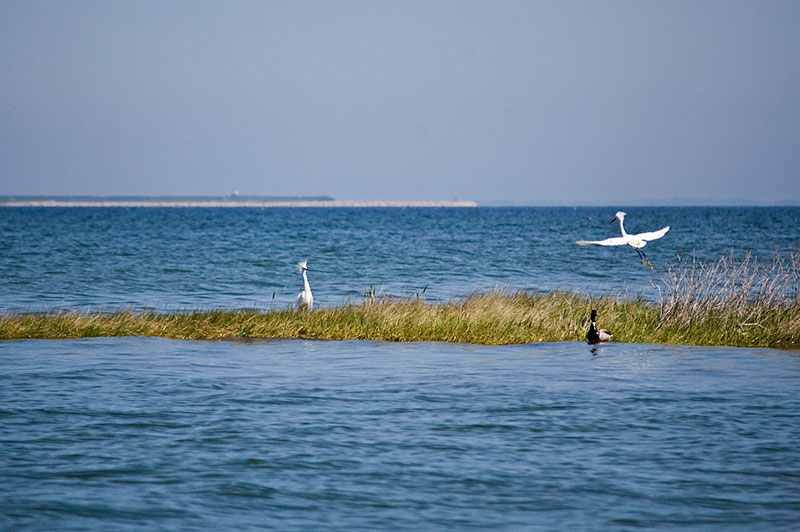 The Chesapeake Bay and its rivers have been a home to people for thousands of years. Today the Bay supports Virginians and the more than 17 million people in parts of six states who live in its watershed. The Bay is more productive, meaning it can support more plants, animals, and people, when we keep it healthy.
The Chesapeake Bay faces many unique challenges. Its watershed covers more than 64,000 square miles. It has 150 major rivers and streams that can carry pollutants from your backyard all the way to the Bay. There, pollutants can accumulate and affect the plants and animals that live in the Bay. Given that the Bay supports a fishing industry that is worth more than $3 billion a year in Virginia and Maryland alone, keeping the Bay healthy is important to Virginia's economy.
Virginia is a member of the Chesapeake Bay Program, which is a partnership with Delaware, the District of Columbia, Maryland, Pennsylvania, New York, West Virginia, the Chesapeake Bay Commission, and the U.S. Environmental Protection Agency. The top executive from each Bay program participant -- the governors of each state, the mayor of the District of Columbia, the EPA administrator, and the Chesapeake Bay Commission chairman -- make up the Chesapeake Executive Council, which has been directing Bay restoration efforts since 1983.
Representatives from each of the states, along with officials from other federal agencies, local governments and citizen representatives, meet regularly to carry out the policies set by the Chesapeake Executive Council's Chesapeake Bay Watershed Agreement .The 2014 Chesapeake Bay Watershed Agreement established goals and outcomes for restoration of the Bay, its tributaries and surrounding land.
The Office of the Virginia Secretary of Natural and Historic Resources, through the Department of Environmental Quality (DEQ), has announced the release of Virginia's Final Phase III Watershed Implementation Plan for meeting the Chesapeake Bay Total Maximum Daily Load (the Final III WIP) for public review and comment.
Read Secretary Strickler's letter on the WIP to the Environmental Protection Agency here.
To view the Final Phase III WIP and learn more about the public comment period, visit DEQ's Chesapeake Bay TMDL Phase III Watershed Implementation Plan web page.
Whether we live near the Bay or far from it, we all have the ability to help protect it. Here is a sampling of what Virginia's agencies are doing to work on our shared goals.
Protect, restore and enhance finfish, shellfish and other living resources, their habitats and ecological relationships to sustain all fisheries and provide for a balanced ecosystem in the watershed and Bay.
The Virginia Oyster Restoration Interagency Workgroup selected the Lynnhaven, Lafayette, Piankatank, Great Wicomico, and Lower York rivers in Virginia for restoration.
Restore, enhance and protect a network of land and water habitats to support fish and wildlife and to afford other public benefits, including water quality, recreational uses and scenic value across the watershed.
VMRC, in cooperation with local wetlands boards, other state agencies and the U.S. Army Corps of Engineers, reviews and coordinates recommendations for public and private use of the Commonwealth's subaqueous bottom land, tidal wetlands, beaches and dunes through the joint permit application review process.
Virginia's state forests are demonstration sites for best practices in forestry, including activities from tree planting to harvesting, and environmental considerations for water quality, aesthetics and wildlife. Management of vital streamside habitat focuses on a continuous source of clean water, travel corridors for wildlife, and diversity of plant and animal species. http://dof.virginia.gov/stateforest/index.htm
The Department of Game and Inland Fisheries is working to protect and restore habitats for brook trout and black ducks, as well as to restore historical access for all migratory species through increased fish passage throughout the Commonwealth.
In partnership with state and federal organizations, Virginia Soil and Water Conservation Districts implement the Conservation Reserve Enhancement Program to protect Virginia's water quality and wildlife habitat by offering financial incentives, cost-share and rental payments to farmers who voluntarily restore riparian forest buffers, grass and shrub buffers, and wetlands . http://www.dcr.virginia.gov/soil_and_water/crep.shtml
Reduce pollutants to achieve the water quality necessary to support the aquatic living resources of the Bay and its tributaries and protect human health.
The Department of Environmental Quality is the Commonwealth's lead agency for monitoring and protecting water quality. DEQ extensively tests Virginia's rivers, lakes and tidal waters for pollutants. More than 130 pollutants are monitored annually to determine whether the waters can be used for swimming, fishing and drinking.
VMRC contributes to research through grants from the commercial and recreational license funds to enhance submerged aquatic vegetation. These water quality initiatives are conducted by the Virginia Institute of Marine Science. VIMS works closely with the Virginia Department of Health to be aware of pollutant levels in the Bay and its tributaries.
Through its Virginia Trees for Clean Water program, The Department of Forestry is improving water quality across the Commonwealth by promoting on-the-ground tree planting efforts. DOF has assisted 63 projects resulting in more than 18,600 trees being planted in Virginia communities, including special projects such as: riparian buffer tree planting, a Turf to Trees program, and community and neighborhood tree plantings.
The Virginia Department of Agriculture and Consumer Services works with farmers and local Soil and Water Conservation Districts to resolve water quality problems concerning nutrients, sediment and toxins from agricultural activities. http://www.vdacs.virginia.gov/
Ensure that the Bay and its rivers are free of effects of toxic contaminants on living resources and human health.
DEQ is responsible for monitoring the Commonwealth's water quality. In cooperation with the Virginia Department of Health, DEQ test Virginia waters for toxic substances such as PCBs, mercury and pesticides.
The Virginia Marine Police work in cooperation with DEQ to identify potential water quality problems.
Sustain state-identified healthy waters and watersheds, recognized for their high quality and/or high ecological value.
DEQ and DCR oversee Virginia's efforts to monitor, protect and clean up Virginia's watersheds, focusing on impairments for designated uses from specific pollution sources and runoff from the land.
DOF is leading a project with DEQ, the Chesapeake Bay Commission, the Rappahannock River Basin Commission, the George Washington Regional Commission, The Nature Conservancy and the Water Resource Research Center at Virginia Tech to demonstrate the value of retaining forestland in the Chesapeake Bay watershed.
VMRC is engaged with companies, local governments and citizens requesting the use of the Commonwealth's subaqueous bottom land for a variety of activities in small watershed through the joint permit application review process.
Stewardship
Increase the number and diversity of local citizen stewards and local governments that actively support and carry out the conservation and restoration activities that achieve healthy local streams, rivers and a vibrant Chesapeake Bay.
Virginia's Forest Stewardship Program is a cooperative effort of the DOF and the U. S. Forest Service, state and private forestry, to assist non-industrial private landowners to improve the management of forestlands for multiple resources, including wildlife, water, recreation and forest products.
Soil and Water Conservation Districts review and submit applications for Virginia's Clean Water Farm Award program. Farmers and landowners who receive the award are progressive in managing their farm operations and have adopted and implemented innovative conservation tools, technologies and practices to protect and enhance water quality. http://www.dcr.virginia.gov/soil_and_water/cwfa.shtml

The Department of Historic Resources has contributed to public awareness and stewardship on the Eastern Shore through archaeological field schools, public archaeology days, as a catalyst for creating an Eastern Shore Archeological Society of Virginia Chapter, in fomenting the organization of Chesapeake Bay Archaeological Consortium, sponsoring surveys and excavations through the DHR Threatened Sites Program, and administering Hurricane Sandy grants for shoreline and county-wide architectural and archaeological surveys.
Conserve landscapes treasured by citizens in order to maintain water quality and habitat; sustain working forests, farms and maritime communities; and conserve lands of cultural, indigenous and community value.
Through coordination and oversight of local wetlands boards, the VMRC Habitat Management Division protects tidal wetlands and shorelines from conversion to other uses.
VDACS works with government and private organizations to help establish local purchase of development rights programs, create programs to educate the public about the importance of farmland preservation, and assists local governments in developing additional farmland preservation policies and programs. http://www.vdacs.virginia.gov/
As the Commonwealth's largest non-federal landholding agency, DGIF continually identifies high-priority land acquisitions protecting important wildlife habitat and providing other benefits, including water quality. A listing of DGIF-owned Wildlife Management Areas is available at http://www.dgif.virginia.gov/wmas/.

The easements held by the Board of Historic Resources, which are administered by the Department of Historic Resources, protect cultural resources in and around the Bay that are valuable to Virginia's heritage and are significant in telling Virginia's story and safeguarding its history. DHR easements protect more than 39,000 acres across Virginia.
Expand public access to the Bay and its tributaries through existing and new local, state and federal parks, refuges, reserves, trails and partner sites.
VMRC administers grants from the Virginia Recreational Saltwater Fishing Development Fund, which is made up of funds collected by the Commonwealth from the sale of recreational fishing licenses. VMRC works with local governments and DGIF to provide grants for public fishing piers and boat ramps throughout Virginia's saltwater region.
http://mrc.virginia.gov/vsrfdf/access.shtm
Enable students in the region to graduate with the knowledge and skills to act responsibly to protect and restore their local watershed.
Through multiple programs, VMRC seeks to educate the public on environmental issues pertaining to the marine resources of the Commonwealth. Programs such as the Saltwater Fishing Tournament, Game Fish Tagging Program, Fishing Line Recycling Program, Marine Sport Fish Collection Program, and sponsored fishing events help engage the public about resource issues and research needs.
Prompted by the reauthorization of the Chesapeake Bay Agreement of 2000 and its renewal in 2014, the meaningful watershed educational experience initiative has grown into a statewide and regional environmental education movement. Its implementation has resulted in exciting new partnerships within school systems and the community at large.
Envirothon is a hands-on environmental problem-solving competition for high school students. The competition focuses on an Standards of Learning-aligned curriculum to engage students in real life environmental topics.
Youth Conservation Camp is a week-long educational program held each summer to allow students to engage in real-life natural resources conservation topics. Scholarships are provided for high school students to attend and gain a firsthand look at potential education and career opportunities in the field of conservation.
Increase the resiliency of the Chesapeake Bay watershed, including its living resources, habitats, public infrastructure and communities, to withstand adverse impacts from changing environmental and climate conditions.
VMRC is developing general permits to streamline the permitting process to encourage waterfront property owners to consider living shoreline techniques when addressing shoreline erosion. Living shorelines are a shoreline management practice that provides erosion control and water quality benefits while preserving and enhancing tidal wetlands in response to sea level rise.
DEQ and VMRC participate in the Mid-Atlantic Regional Council on the Ocean (MARCO) http://midatlanticocean.org. Founded by five governors, this organization works to enhance the vitality of the regions ocean ecosystem and economy. A major initiative of MARCO is the Climate Change and Sea Level Rise Information Exchange.
Chesapeake Bay Stakeholder Advisory Group
August 19, 2021
April 29, 2021 Meeting Materials
October 28, 2020 Meeting Materials
June 4, 2020 Meeting Materials
December 6, 2019 Meeting Materials
August 28, 2019 Meeting Materials
March 14, 2019 Meeting Materials
January 11, 2019 Meeting Materials
November 7, 2018 Meeting Materials
August 22, 2018 Meeting Materials
June 4, 2018 Meeting Materials
April 30, 2018 Meeting Materials
March 6, 2018 Meeting Materials
October 12, 2017 Meeting Materials
July 21, 2017 Meeting Materials
December 8, 2016 Meeting Materials
May 3, 2016 Meeting Materials
September 3, 2015 Meeting Materials
March 20, 2015 Meeting Materials